Ready to improve your life?
Introducing

 

the
EVOLVING YOU 
COACHING PROGRAM
We know to create lasting change we must learn how to re-wire our neural pathways. We use a unique coaching approach created by Grant Soosalu & Marvin Oka called mBIT (multiple brain integration techniques).
Based upon the latest neuroscience findings, this approach allows you to address any issue by re-wiring your neural pathways to create transformational and lasting change. One of our many highly trained mBIT Certified Coaches will partner with you to address any issue you need support on in order to begin evolving yourself today! 
Learn More
PROBLEMS WE SOLVE
Need to make a change in your life?
Learning, growing, and evolving ourselves can bring tremendous value to our lives if we can do it effectively! Here is just a sample of the types of challenges our app and program can help with:
Stress & Burnout
Have you been in a constant state of high stress? Are you currently experiencing burnout, exhaustion, and overwhelm?
Reactive
Do you struggle to express your emotions in healthy ways? Do you have a tendency to explode at others, yelling at your kids or spouse?
Attacking
Do you have a tendency to be manipulative or passive-aggressive when you are angry, frustrated or hurt?
Story-Telling
Do you make up stories about others? Judging them out of anger, frustration, jealousy or hurt?
Connection
Are you struggling to build lasting and meaningful connections with others?
Empathy
Do you have a hard time identifying and empathizing with others' experiences and emotions?
Numbing
Do you try to hide or bury your emotions? Do you struggle to express your emotions externally in healthy ways?
Perfectionism
Are you really hard on yourself? Constantly criticizing and trying to be perfect at everything you do? Never feel like you are good enough?
Negative Mindset
Do you allow your circumstances or other people to impact how you feel? Are you constantly feeling bad or negatively because of situations outside your control?
What Emotions?
Can you name your emotions and what you are feeling with clarity? How many emotions can you name? Do you struggle to distinguish between different emotions?
Avoiding
Do you try to avoid feeling emotions? Pretending they don't exist or aren't important or necessary? Do you stay so busy you don't have to ever deal with your emotions?
Join Our
Evolving You Program
A Self-Awareness Mastermind
We know when you first start your journey to create lasting change or transformation in your life, it requires both support and momentum. To get you started, we've created our Evolving You Program: A Self-Awareness Mastermind.
This 3-month program combines our online self-awareness courses with live group coaching to help you develop greater conceptual and embodied self-awareness! Each week we will cover an area of self-awareness including: 
An Overview to Self-Awareness 

Embodied Self-Awareness 

Our Body

Our Energy

Our Brains

Our Emotions

Our Experiences 

Conceptual Self Awareness 

Our Talents (Strengths)

Our Passions (Values, Motivations, Interests)
Our Capabilities (Skills, Knowledge, Competencies)
Our Performance Mindset (Beliefs, Environment, Experience)
The Evolving You Mastermind Program includes Vibeonix emotional intelligence technology, Introduces the NeuroFit App, and tons of highly effective neuroscience-based training that is guaranteed to help you improve your self-awareness, performance, life, and relationships!
Interested in joining our Group Mastermind Program?
Starts September 2023 and runs until December 2023
(Note: we will skip holiday weeks)
What if you could experience...
THE TECHNOLOGY
What does the Vibeonix App do?
The Vibeonix App has brand new technology that helps you to identify your emotional intelligence and emotions by measuring your voice frequency.
Struggling with Your Emotions?
Before we can focus on our peak performance, we must have a good understanding of our emotional intelligence.
Despite countless emotional intelligence courses and certifications in the market, studies show that only 10-15% of people are actually self-aware (Harvard Business Review). With the impact of emotional intelligence on performance and results, it's time we leverage the power of technology to help us gain greater insight into the emotions we are experiencing and how to effectively manage them.
This emotional intelligence app will help you do just that in just 15 seconds. With voice analysis AI, you'll discover how to understand, feel and move through emotions for better problem-solving, decision-making, happiness, flexibility, improved relationships, and so much more!
Join today to start Evolving You!
 Why Self-Awareness is Critical to Evolving
Believe you already have great self-awareness? According to a Harvard study, 95% of people believe they are self-aware but only 15% actually are (and the results are even worse for leaders). 
Self-Awareness includes both conceptual (how we think about ourselves) and embodied (our present moment understanding of the messages from ourselves). Many people have some degree of conceptual self-awareness (talents, passions, capabilities, mindset) but most people are lacking embodied self-awareness. 
High self-awareness is linked to greater wellbeing & life satisfaction, peak performance, better decision-making, improved relationships, emotional intelligence, adaptability, resilience, personal growth & development, and more effective leadership. 
We know from neuroscience and neurophsyiology (studyign the brain & body), that in order for humans to create lasting change they must re-wire their neural pathways. To do so, we must understand how we are currently operating and how to re-wire our bodies to evolve ourselves. This self-awareness is foundational and critical to experiencing transformational and lasting change! 
THE CHALLENGE
Why do so many fail?
Every year tons of people make New Year's resolutions to change, improve, or grow themselves. They attempt to create new habits, start new practices, stop poor or unhealthy activities, and change their lives for the better. According to Forbes, 80 of people will fail at these efforts by February...
Lack of Support
Anytime we make changes in our lives we inevitably will hit a roadblock or challenge. Without support we are less likely to take consistent action, follow through on what is required, and more likely to give up entirely.
Surface Solutions
Most attempts at change start at a surface level attempting to change a behavior or action without actually address the root of the issue. When our solutions are on the surface only, they are hard to maintain, and our weeds (bad behaviors) grow back quickly.
Generic Suggestions
Most of the time we are trying to implement changes based upon what we have seen works for others. Unfortunately, these solutions are often not the best for us, in our lives and circumstances.
Powerful Technology + Neuroscience-Based Training + 1:1 Coaching
Voice analysis AI coupled with on-demand training content and one-on-one guidance provides a safe place for you to discover new ways to learn about yourself, move through your experiences, and begin evolving to live a more exceptional life.
THE SOLUTION
How is our Program different?
This unique coaching program offers benefits unlike any other program you will find out there. By combining technology, with coaching experience, and the latest in neuroscience we've created a program guaranteed to create significant results in just 3 months!
Superior Support
Our coaching program includes multiple layers of support - first we monitor your emotional intelligence data, then we offer recommendations via the app, and then we provide targeted live coaching sessions to move you through the bigger challenges and issues.
Root Emotions & Issues
By using the objective data obtained with the emotional intelligence assessment we can track your emotions (the ones you are aware and not aware of) to deal with the underlying issues. We can truly get to the root by addressing your emotions real-time.
Your Unique Wisdom
The only person who knows what will work best for you is...you! We've discovered by applying neuroscience-based techniques we can coach you to unlock your own wisdom on what you need to do to create the results you want (and need) in your life.
PERSONALIZED SUGGESTIONS
Take your assessment results further by opting to share them with your coach. When you elect to share your data, we will provide you with personalized actionable suggestions based on your results.
Additionally, when you complete a check in, your data will be automatically analyzed by Gabi, an AI coach, who will also provide helpful suggestions to for increasing your emotional intelligence. All through the app. It's that simple.
Are you ready to evolve?!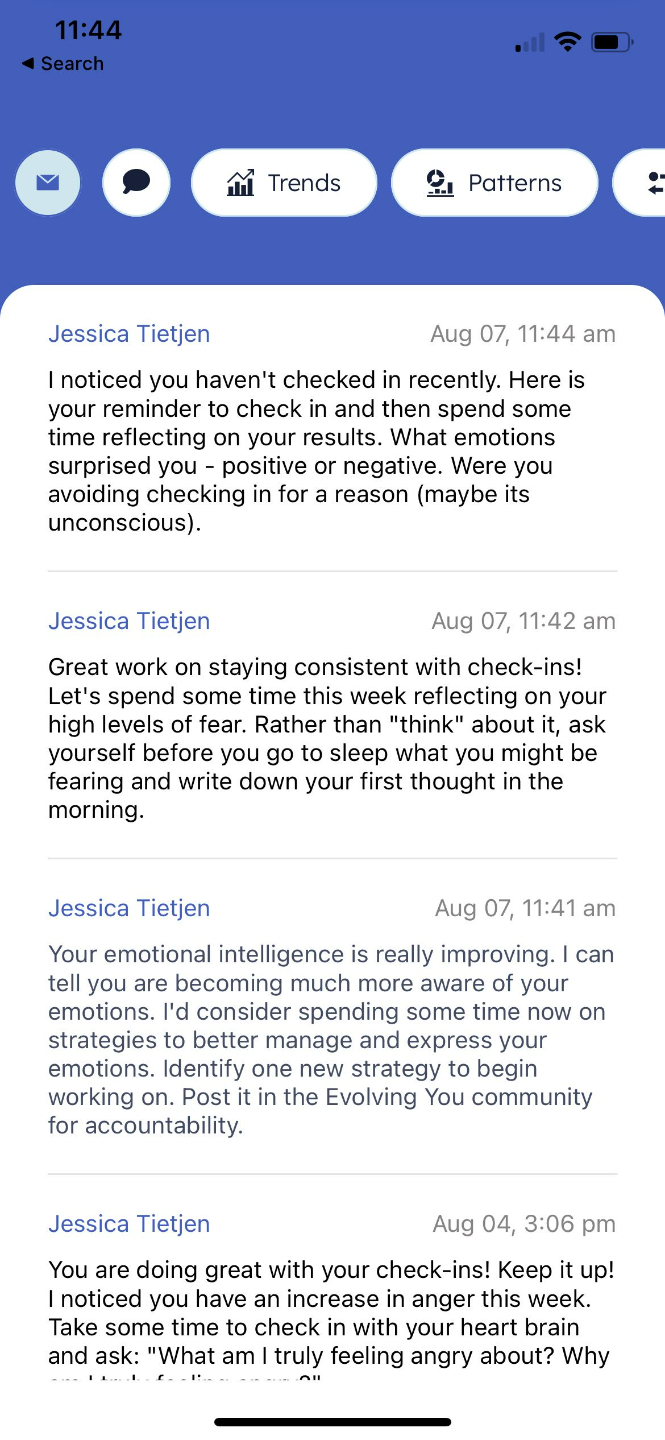 Live 1:1  Coaching Calls
Ready to dive a little deeper into an issue? Schedule a 30- or 60-minute coaching session for coaching on a specific issue. One of our amazing mBIT coaches will chat with you live about your issue offering input and helping you to quickly identify and create an action plan.
GET STARTED TODAY!
We are so excited about our Evolving You Coaching approach and it's value! You have two options for getting started with us:
Individual Coaching or a Group Coaching Mastermind. 
Same content, same results, different format and pricing! 
Let's chat!
I'd love to Chat with you about your needs and learn about you.